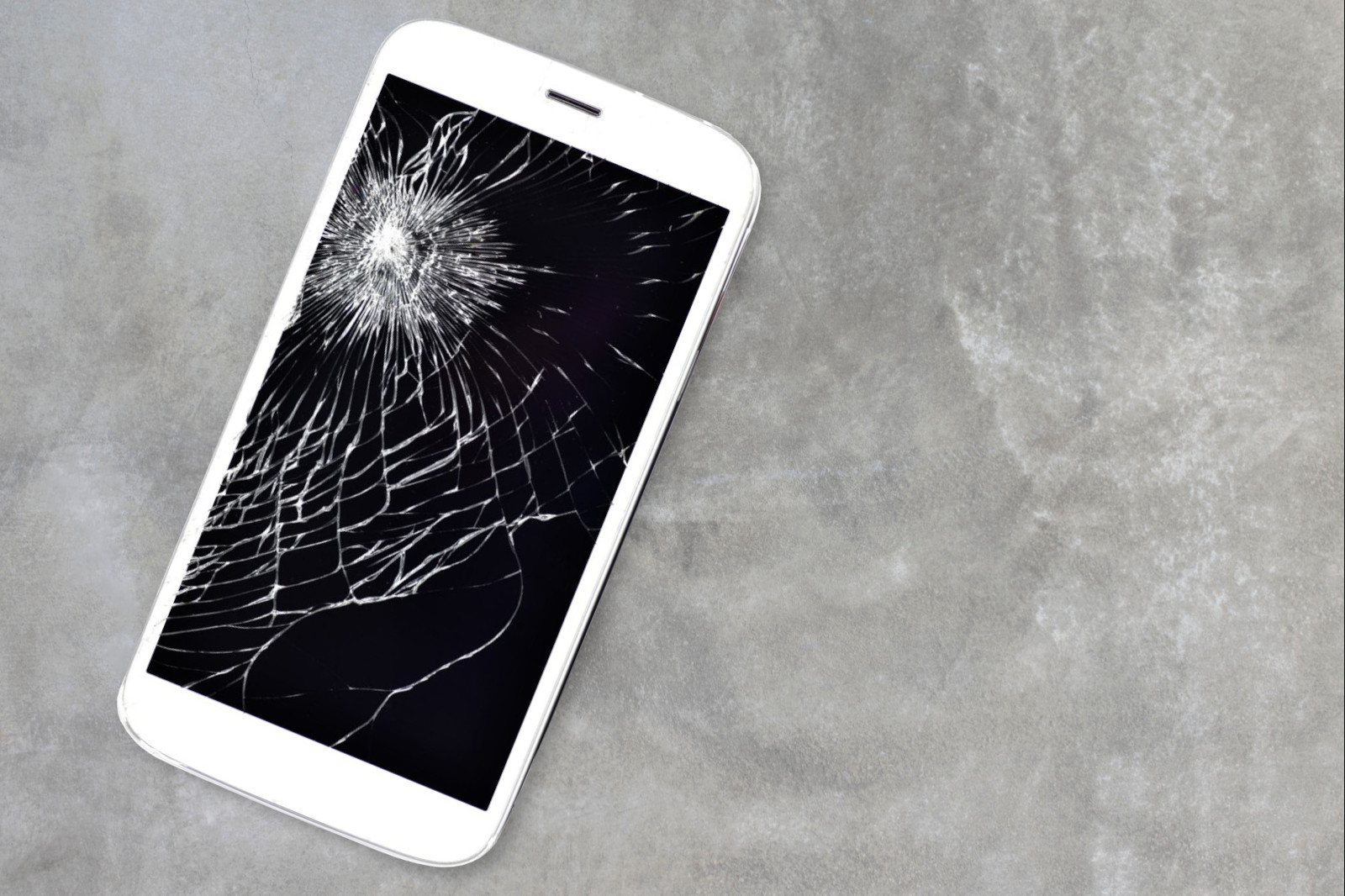 See How Fixing The Broken Screen On Your Phone May Be Easier Than You Think
What a time to be alive!
Your cell phone has now become the central hub for all your internet, phone, and streaming needs and grants you access to all the information you could need.
It's amazing to think that after years of hauling around gargantuan cell phones with large antennas, you now carry around a far-more-useful phone in your pockets.
The one downfall? These bad boys are getting easier and easier to crack with a simple slip of the hand.
Sometimes it even seems like putting a bulletproof case on them wouldn't stop them from cracking on a 2-foot fall.
Fortunately, there are things you can do to fix that broken screen when and if it happens to you.
My Phone Has a Broken Screen: What Can I Do?
You may be surprised to find out how many options you have at your disposal if this happens.
Read on to figure out which pathway best aligns with your situation.
1. Check with Your Phone Insurance First
Assuming either your phone still works once it's cracked or you have a friend's phone accessible to you, the first call you should make is to your phone insurance company.
Insurance, of course, always has it's technicalities. So, be sure to ask if they cover broken screens and if so, to what extreme.
If they DO cover cracked screens, then the process should be fairly painless. Make sure to follow the step-by-step instructions that your insurance gives you.
Taking it to a company or location that they didn't provide you could mean having to pay for it yourself, so be cautious!
Another thing to factor in is to compare the cost of the deductible with the cost it takes to fix the screen.
You might be surprised to find out that fixing it yourself costs less, and if so, then it's time for some DIY!
If your insurance DOESN'T cover cracked phones, then also check to see if there's a qualifying coverage in other insurances you have such as home insurance or bank account insurance.
2. Do It Yourself
As mentioned before, it might be more advantageous for you to decide and fix the broken phone screen yourself.
Just as a heads up, the moment you start the self-repair method you will probably void the warranty on your phone.
That's why it's important to read up on your warranty, your coverage, the deductible cost, and the cost of doing it yourself before starting.
But, as long as you trust yourself to watch a DIY Youtube video and apply it to what you're doing, then you should be okay!
If you're honest enough to admit that you probably shouldn't attempt to fix it, then be sure to reach out to an expert for next steps.
There are great Youtube videos that help you with guidelines for fixing most phone models.
Be sure to read up on the tools or phone fixing kits you'll need beforehand.
While they will undoubtedly pitch you on materials they recommend (because they're sponsored by them), you can find materials at a better price on sites like Craigslist, eBay, and Amazon.
All you need to ensure is that they line up with the specifications of the kits.
Should you start to fix it yourself, and fail miserably, it's never too late to take it into a repair expert.
3. Switch to an Old/Backup Cell Phone
Cracked phone screens never happen at the right time, do they?
Perhaps your screen busted and you really can't afford to fix it until your next paycheck two weeks from now.
Maybe the phone is way more damaged than you initially thought, but buying a new one isn't in the cards for the foreseeable future.
Whatever the case may be, it's always a good option to have an old phone that you can use as a backup in these situations.
Even if your phone is only gone temporarily while they fix it, you'll need something for the time being.
So, it's time to dig through the back of your closets, scrummage through the desk drawers, and reopen those towering move-in boxes for your old cell.
If you've resold all of your old ones or just can't find them, ask your friends and family members if they have one.
Something is better than anything at all.
Besides, who doesn't enjoy throwing it back to the Motorola Razr every now and then for perspective?
4. Call a Cell Phone Repair Expert
Doesn't it figure? You spend all this money on protective cases to ensure the phone screen never cracks.
Yet after a few times of dropping the phone, the case itself wears out and the phone screen breaks.
Even worse: the one time your phone is ever out of its protective case, and that's the one time you drop it… typical.
When this happens, your brain is sent scrambling to come up with the best solution to deal with it.
Better to leave that problem to the experts and call someone you know you can trust. Their years of experience will serve you better than the first or second thought that rushes to your mind.
Shipping your phone to its manufacturer is always an option, but not necessarily the safest one (more on that in a moment).
Pair that with the outrageous amount of money you'll be paying to do so for an Apple product, and you'll be wondering if it's worth it at all!
Meanwhile, repair experts will provide you the highest quality of service and efficiency at a competitive rate.
Not only will you have your phone back before you know it, but it'll be in better shape than before you cracked the phone in the first place.
They can also do a check up on all your phone's other features while it's there to ensure everything else is up and running as it should be.
Need a free diagnostic? They've got you covered. You'll finally understand what's causing the weird glitch on your home screen after they take a look.
While fixing it yourself seems cost-effective, the damage you may do to other aspects of the phone during the "fixing" process may not be worth the risk.
It's better to play it safe and call the phone repair service from the get-go!
5. Compare Repair Service Rates
While this may seem petty to do when it comes to a repair service, it's all but necessary.
First off, your whole life is stored on that broken screen phone… don't take this lightly.
Secondly, you shouldn't just call and schedule an appointment with the first repair service that you find by typing "phone service near me" into Google.
It's beneficial to both your wallet and your safety to compare rates, read customer reviews, and talk to experts at both shops to see what they can do for you.
Also, take that time to ask them for an estimated turnaround and the type of warranty that comes with the repair.
Are they swamped with other devices they're currently working on?
Is there a repair technician on standby to help get you in-and-out quickly for these situations?
All stores are different and vary in levels of integrity. Make sure you're acquainting yourself with the most efficient repair service around!
6. Sell Your Damaged Phone
Every phone reaches that point in its life where it's owner has to decide what it's quality of life is.
If your phone was already getting up there in age and flaking out on occasion, then you may be viewing this "cracked screen" incident as a godsend.
Should that be the case, there's no better time to get what you can for it by selling it.
Look at the bright side: there are two routes you can take after you sell the current phone that just broke.
You could either pocket that money and use an old phone for the time being OR you could buy a new phone, which we'll get to in a second.
Assuming you've never resold a phone or broken screen before, there are several sites that would be interested in buying your phone whether it's working or not.
Sites like Gazelle and Glyde will grant you a platform to resell your phone on a trusted site.
There are other options like Swappa, eBay, LetGo, and Facebook Marketplace where you can find a gentleman or lady nice enough to pay and take it off your hands.
If those don't sound like intriguing options, or just aren't a process you want to go through, then you have other options.
When you go to purchase a new phone, or any new device really, the store you're interested in buying it from should have a store credit policy.
That way you can essentially trade in your phone for a certain amount to be applied to the new device.
Make sure to ask how much the credit is before going down that route, then check to see if it makes sense for your situation.
7. Replace Your Phone with the Exact Same Model
One of the best ways to deal with an accident such as a broken screen… acting as if it never happened at all.
In this case, that means replacing your cracked phone with the exact same model, leaving everyone none-the-wiser that you ever broke it at all.
If you loved the phone you had and weren't interested in upgrading anytime soon, then don't.
Simply go online and find a version of your phone that's been used but still in great condition.
Make sure it's working and that all the features are up-to-speed.
This way, you won't have to go months carrying around a phone as old as time, but you're also not forced to pay for a new phone if you aren't ready to.
8. Buy a New Phone
If you were starting to notice the features fading in your current phone and were interested in a new phone before the screen cracked, this may be just the excuse you need to pull the trigger!
This may seem obvious, but some people can't justify buying a new phone until their current one breaks.
If that's you, then now is your chance!
Sometimes a new phone is necessary, even with the somewhat-hefty price tag attached.
However, this doesn't mean you have to get the latest-and-greatest model.
Find a relatively new model that you're comfortable with at the right price.
9. Stick with the Current One
As the old saying goes, "if it ain't broke, don't fix it".
In other words, if your phone screen is damaged, but the phone still works fine, then you may be able to use it as-is.
While it's not ideal to look at the eye-sore that is your broken phone screen, it can save you loads of money in the meantime.
Especially if you're in the awkward period where it's too early to buy a new phone but too late to spend much fixing it up.
Ultimately, be sure to give your phone repair expert a call to see their thoughts on your situation.
They can help you determine whether your current phone needs to be repaired or replaced.
If it needs to be replaced, they can suggest some models and places to go for your next phone purchase as well!
Find Yourself a Friend in the Tech Repair Industry
As you can see, you have plenty of options to choose from in the crisis of a broken screen.
Perhaps your phone is having other issues that you need to be sorted out.
Be sure to check out this article on what to do when your phone won't charge if that's another issue you've previously had.
For more inquiries, give us a call anytime at 859-282-4982.